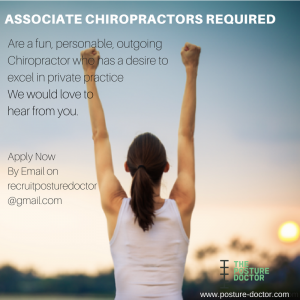 Are You The Motivated and Dynamic Chiropractor We Are Looking For?
You are a fun, personable, outgoing Chiropractor and have a desire to excel in private practice. You're always looking to develop your clinical knowledge and skills, and are eager to take on new and exciting challenges.
Perhaps you are looking for your first role in a practice or maybe you just aren't fulfilled with your career so far, and know that there is a better opportunity waiting for you at Posture Doctor.
Things are about to change, read on to hear how:
You'll be our future Chiropractor and take pride in your Chiropractic career.
You'll have great people skills, fantastic communication and enjoy working as part of a dynamic team, and having a laugh and chat in our vibrant culture.
You want to earn a fantastic fees, and be financially rewarded as you grow your caseload. You want the opportunity to become more than just a standard team member because you know that you are able to deliver much much more.
We are a well-established, and progressive practice known for delivering excellent patient outcomes in a fun and friendly environment.  We are continuing to expand due to a popular following amongst patients, medical referrers, strong networks and an excellent community reputation.
We are committed to helping all of our team reach their potential professionally and personally and provide all the support necessary for you to reach your goals in a caring, fun and supportive environment. We offer an attractive rates with great performance incentives so you are rewarded for you hard work.
Whether you are a young energetic Chiropractor looking for an inspiring opportunity to leapfrog years in your learning curve, or you are more experienced and want to expand your career opportunities and reach your true potential, we would love to meet you
Skills & Attributes
• Good communicator, confident with people
• Positive outlook and passionate about health and wellbeing
• Commercially confident & motivated to grow our practice
• Team player
• Organised
• Well presented
• Can manage a high volume of clients
Mandatories
• BSc / Master of Chiropractic or equivalent qualification
• GCC registration
Other Detail
• Flexible hours with a view to grow with patient base
• Patient fees
• First-class mentorship programme and CPD from leading chiropractors
Apply Now
This is a great opportunity for a chiropractor wanting to join a clinical team and develop themselves in a fun and supportive environment.
Find us on Facebook https://www.facebook.com/PostureDoctorNI/ to read our 5 star patient reviews and see what we've been up to.
If this sounds like you and you're interested in this role, please send cover letter and CV recruitposturedoctor@gmail.com