June 22nd, 2018
Are You An Experienced, Personable & Organised Office Manager?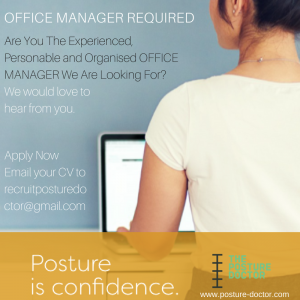 Due to our fast growth and service to our community, we need an office manager for our chiropractic office.
This position is our patient's first point of contact. Therefore a professional, upbeat, friendly, and cheerful demeanour is a must.
If you feel there qualities describe you, apply to join our modern practice and work with a very close knit team.
Reporting to the owner, the Office Manager is responsible to deliver growth and operational excellence at the clinic level. As the office manager, you will  bridge between the clinic team and the home office in the implementation of the company strategy and programs. The office manager is responsible to assist in the annual growth, revenue and profitability objectives established for the clinic.
Office Manager Role:
Grow the clinic through consultative sales efforts and by delivering a phenomenal clinic experience for new and continuing patients.
Facilitate consult conversion by assisting the patient in developing an acceptable financial plan.
Retain, develop and coach employees such that the clinic has a high-performance team where employees are engaged and patient satisfaction is high.
Establish individual performance objectives for clinic staff that align with the clinic plan.
Monitor performance of staff and the clinic on a weekly basis; provide feedback and direction where required
Work with team to ensure an exceptional customer experience.
Work with team to support and execute local programs that drive growth in the clinic.
Ensure the smooth execution of the day-to-day operational aspects of the clinic (staffing, schedules, materials management, pre-authorization, chart maintenance, records maintenance, productivity…)
Ensure the proper management of payments, patient data into xxxx System, financial procedures such as the daily close, timely collection of accounts, management of aged receivables.
Along with the clinic staff and owner, prepare the annual budget and plan for the clinic.
Education and Skills:
Experience in a retail, customer service or clinical healthcare setting.
Strong leadership skills
Sales and business development experience strongly preferred
Knowledge of medical software, scheduling, insurance processing and collections preferred
Fluency in medical office operations (eg. scheduling, invoicing, data entry, insurance coding, charge entry, collections, maintenance of medical records, handling elevated patient complaints)
Personal Requirements:
The "Go To" Person – Acting as a key point of contact for the business, being a true relationship builder between all departments in our business
Relationship orientation, leadership by example, someone that others aspire to emulate
Bias to ensuring compliance but observant about the causes of deviations
Demonstrate a high standard of business ethics and integrity
Create a culture of openness and accessibility in the clinic
Comfortable in a customer-facing capacity that involves influencing a sale
Mature, professional approach to the business and to colleagues
Bias to action, likes a challenge
Willing to "do what it takes".
Apply Now
If you have proven experience in all of the above, we want to hear from you! Your smooth, personable and highly responsive office management service will make true impact to our business.
Please send us your CV with a covering letter; indicating how you feel you can add value in this role to RecruitPostureDoctor@gmail.com