February 6th, 2018
Posture Doctor – Goodbye January, Hello February #FeelGoodFebruary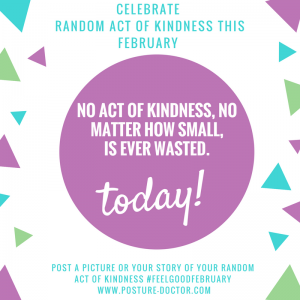 Goodbye January, Hello February
Firstly: January is over. Hurrah.
I am so pleased!
As February is the month of love, here at the Posture Doctor we are making 'kindness' a priority in February. We would like you to join us our #FeelGoodFebruary campaign for the chance to share the love and win a Posture Doctor Gift Voucher of £50
Simply post a picture or add the story of your random action of kindness #FeelGoodFebruary and a caption encouraging others to do the same.
Some ideas to get you started…..
Volunteer for an hour at an organization of your choice.
Buy a gift for your mother or grandmother – just because.
Allow a fellow driver to merge into your lane.
Write a thank-you card and post it to someone who won't expect it.
Find unneeded items in your house and donate them to a charity
Plant a tree.
Think of something you do well, and use your talent to benefit others – for example performing magic tricks at a children's hospital or playing music at a nursing home.
Teach an elderly person to use a computer to surf the Internet or write e-mails.
Collect stuffed animals or toys from family members, friends, and neighbours and donate them to an organisation that helps children.
Pick up rubbish
Donate blood.
Take food to a new neighbour.
Collect small soaps, shampoos, deodorants, and other small toiletries, and donate them to battered women's shelters, rehab centers for teens, or other places that would benefit from them.
Treat a friend to dinner.
Return a phone call you have been putting off.
Volunteer at a charity.
Adopt a shelter animal.
Make a double-batch of something delicious and freezable and give it to an older neighbour who doesn't cook for him or herself as much anymore.
Hold the door open for a stranger.
The most unique and heart felt idea wins a Posture Doctor Gift Voucher of £50 posted by February 28th 2018.
Click on our Facebook, LinkedIn and/or Twitter to get involved