Did you know? A child's schoolbag is only meant to be 10% of their body weight.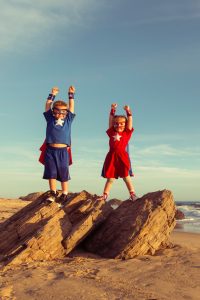 While the kids are usually full of excitement and anticipation for the big day, for parents it means letting go a bit and ensuring that their youngsters are as well prepared as possible for their time at school. Parents often wrestle with the same question: Which schoolbag should I buy for my child?
Even in the early years, schoolchildren have a lot to carry. With the wrong backpack, the collection of textbooks, notebooks and folders, watercolor sets, pencil cases, lunch packs, drink bottles and much more can quickly become a daily burden. Also, at this age children are still in a growing phase, and their needs in terms of schoolbags change just as quickly.
The German Institute for Posture and Movement (Bundesarbeitsgemeinschaft für Haltungs- und Bewegungsförderung e.V. – BAG) found that around 74 percent of primary schoolers walk to school; for about 78 percent of those, the journey is one mile or less. This means that kids spend about a half hour carrying their bags each day. When starting school, it's all the more important to find an optimally positioned bag that rests properly on the back without straining it. This produces the following set of minimum requirements for schoolbags;
School Bag Tips To Ensure Your Kid's Spinal Health:
Well-padded, sufficiently wide, easily adjustable shoulder straps
Ergonomically contoured backrest: pressure-resistant, breathable, non-slip
Convenient handle
Multiple compartments for placing heavy objects close to the body
Length- and height-adjustable chest strap
Ideally, a hip/waist belt for better weight distribution
An age-appropriate empty weight of no more than 1300 g with an internal volume of at least 15 liters
Reflectors are a must for safety on the way to and from school
Fun, cool and safe…
A schoolbag must not only fit comfortably, it should also be visually pleasing to their youngsters. Even nursery often have a very clear idea of their perfect schoolbag, especially what it should look like. Whether it's a farm, soccer, cat or cowboy motif – let your little ones express their creativity. But the final decision on which first bag is best will likely rest with your child.
With school back in full swing, don't let your kid's spinal health suffer. School bags have a tendency to place excess weight on young, developing spines.
Incorrectly fitted bags with an excess weight are potentially creating issues for your child's spinal health. This effects a child's development as their body frame has not transformed enough to carry heavy objects.
Kid's Spinal Health is Your Priority
As Chiropractors we see the potential harm this has on young bodies since we understand how this has the ability to generate problems for your children now and also later in their lives.
Book your child into one of our clinics to be assessed by our Chiropractors today. Bookings with us can be made online or over the phone with our friendly reception staff.
Contact us today 028 867 61861 to book your appointment to ensure your kids posture is prefect for going back to school.